Whether you want to create layered shots like the B-52 or top a cocktail with a colorful float, it's important to know the density of the liquors you're pouring. Floating ingredients is a simple bartending technique that's used to create stunning drinks. In order to do it successfully, a specific gravity chart like the one below, will help you understand the order in which you should pour the ingredients.
The specific gravity or relative density is used to make layered drinks. You typically should pour the heaviest liquors or liqueurs first, then slowly pour the lighter ones on top.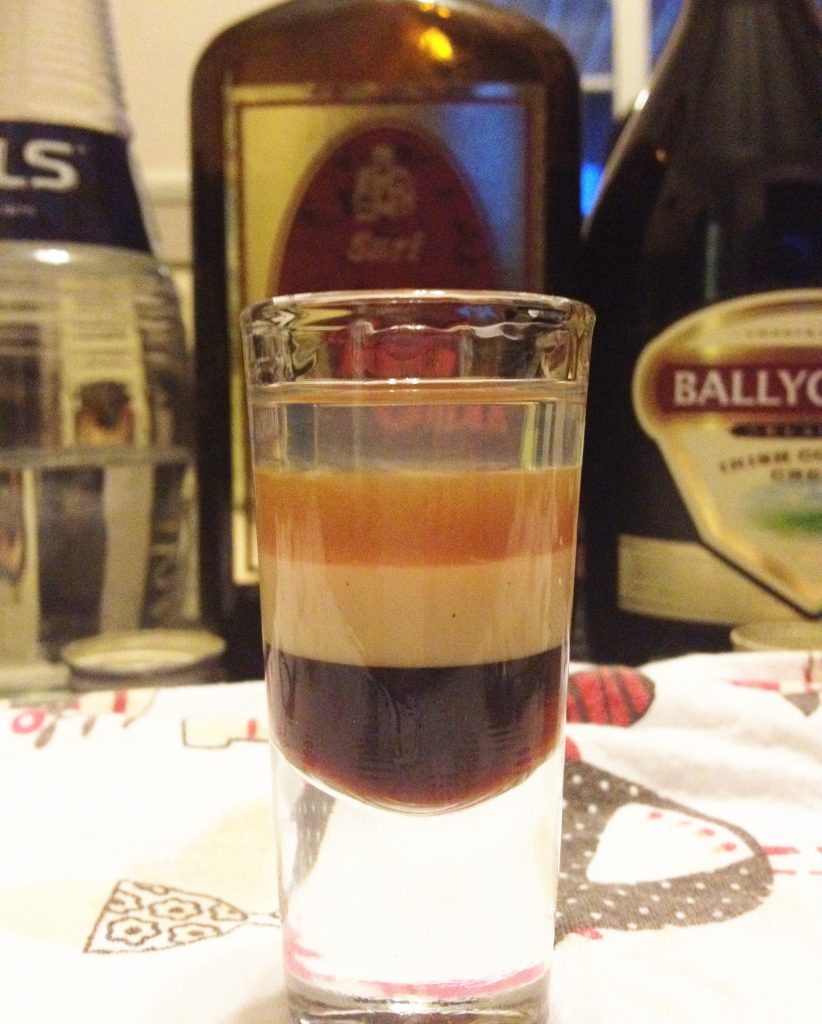 Tips: It's possible to slightly change the specific gravity of a liqueur. To make a liqueur heavier, add sugar and to make it lighter, add vodka. The best layered drinks are often poured over the back of a barspoon to restrict the flow so the ingredients will float instead of just mix together.
Dairy cream is generally lighter than liquors and mixed drinks, so it's often floated on top of drinks. Heavy cream is preferred, though any cream with a milk fat above 30% will generally work well.
Specific Gravity Charts
---
Liqueurs

---

Liqueur
Brand
Specific Gravity
Color
Amaretto
Disaronno
1.0800
Dark Amber
B & B
B & B
1.0240
Pale Amber
Benedictine
Benedictine
1.0720
Pale Amber
Blackberry Schnapps
Black Haus
1.0331
Clear
Blue Curacao
Finest Call
1.1292
Blue
Campari
Campari
1.0664
Bright Red
Cappuccino Liqueur
Godiva
1.0749
Brown
Chartreuse (Green and Yellow)
Chartreuse
0.9980
Green / Yellow
Chocolate Cream Liqueur
Godiva
1.0773
Brown
Chocolate Liqueur
Godiva
1.0791
Brown
Cinnamon Schnapps
Goldschläger
1.0287
Clear or Red
Cocoa Cream
Tequila Rose
1.0750
Creamy / Light Brown
Coffee Liqueur
Tia Maria
1.0950
Brown
Coffee Liqueur
Kahlúa
1.0790
Light Brown
Grenadine
Finest Call
1.2867
Bright Red
Hazelnut Liqueur
Frangelico
1.0650
Creamy / Light Brown
Irish Cream
Carolans
1.0550
Creamy / Light Brown
Irish Cream
Baileys
1.0570
Creamy White
Irish Cream with Caramel
Baileys
1.0712
Creamy / Light Brown
Irish Cream with Mint
Baileys
1.0706
Creamy White
Jägermeister
Jägermeister
1.0072
Dark Brown / Green
Java Cream
Tequila Rose
1.0750
Creamy / Light Brown
Marula Cream Liqueur
Amarula
1.0495
Creamy / Light Brown
Orange Liqueur
Cointreau
1.0385
Clear
Orange Liqueur
Grand Marnier
1.0300
Pale Orange
Peach Schnapps
Archers
1.1029
Pale Orange
Peppermint Schnapps
Rumple Minze
1.0262
Clear
Raspberry Liqueur
Chambord
1.1300
Dark Red / Purple
Sambuca
Romana Sambuca
1.0900
Clear
Southern Comfort
Southern Comfort
0.9700
Pale Orange
Strawberry Cream
Tequila Rose
1.0750
Creamy Light Pink
Triple Sec
Finest Call
1.1339
Clear
Tuaca
Tuaca
1.0172
Amber
White Chocolate Liqueur
Godiva
1.0681
Creamy White
DeKuyper Brands

---

Liquor
Brand
Specific Gravity
Color
Amaretto
DeKuyper
1.1020
Dark Amber
Anisette Liqueur
DeKuyper
1.0921
Clear
Apple Schnapps
DeKuyper
1.0844
Green
Apricot Brandy
DeKuyper
1.0437
Dark Amber
Blackberry Brandy
DeKuyper
1.0552
Dark Purple
Blue Curacao
DeKuyper
1.0704
Dark Blue
Blueberry Schnapps
DeKuyper
1.0863
Dark Blue / Purple
Butterscotch Schnapps (ButterShots)
DeKuyper
1.1225
Dark Amber
Cherry Brandy
DeKuyper
1.0392
Red
Cinnamon Schnapps
DeKuyper
1.0632
Clear / Red
Coffee Brandy
DeKuyper
1.0543
Brown
Coffee Liqueur
DeKuyper
1.1389
Light Brown
Crème de Banana
DeKuyper
1.0822
Light Yellow
Crème de Cacao (Dark)
DeKuyper
1.1141
Dark Red
Crème de Cacao (White)
DeKuyper
1.1204
Clear
Crème de Cassis
DeKuyper
1.1211
Dark Purple / Brown
Crème de Menthe (Green)
DeKuyper
1.0885
Green
Crème de Menthe (White)
DeKuyper
1.1112
Clear
Grape Pucker
DeKuyper
1.0864
Dark Purple
Hazelnut Liqueur
DeKuyper
1.0685
Amber
Melon Liqueur
DeKuyper
1.0924
Green
Orange Curacao
DeKuyper
1.0683
Dark Orange
Peach Brandy
DeKuyper
1.0414
Dark Amber
Peach Pucker
DeKuyper
1.0961
Pale Orange
Peach Schnapps (Peachtree)
DeKuyper
1.1037
Dark Amber
Peppermint Schnapps
DeKuyper
1.0435
Clear
Raspberry Liqueur (Razzmatazz)
DeKuyper
1.1390
Dark Red / Purple
Root Beer Schnapps (Old Tavern)
DeKuyper
1.0705
Brown
Sloe Gin
DeKuyper
1.0261
Dark Red
Sour Apple Pucker
DeKuyper
1.0944
Green
Strawberry Liqueur
DeKuyper
1.1005
Red
Triple Sec
DeKuyper
1.0668
Clear
Watermelon Pucker
DeKuyper
1.1051
Red
Vodka

---

Liquor
Brand
Specific Gravity
Color
Vodka
Skyy
0.9498
Clear
Melon Vodka
Skyy
0.9572
Clear
Berry Vodka
Skyy
0.9572
Clear
Vanilla Vodka
Skyy
0.9572
Clear
Citrus Vodka
Skyy
0.9572
Clear
Orange Vodka
Skyy
0.9614
Clear
Vodka
Smirnoff
0.9496
Clear
Citrus Vodka
Smirnoff
0.9600
Clear
Lime Vodka
Smirnoff
0.9700
Clear
Orange Vodka
Smirnoff
0.9700
Clear
Raspberry Vodka
Smirnoff
0.9700
Clear
Vanilla Vodka
Smirnoff
0.9700
Clear
Apple Vodka (Green Apple)
Smirnoff
0.9800
Clear
Black Cherry Vodka
Smirnoff
0.9800
Cranberry Vodka
Smirnoff
0.9800
Clear
Strawberry Vodka
Smirnoff
0.9800
Clear
Watermelon Vodka
Smirnoff
0.9800
Clear
Gin

---

Liquor
Brand
Specific Gravity
Color
Gin
Tanqueray
0.9369
Clear
Gin
Tanqueray 10
0.9412
Clear
Rum

---

Liquor
Brand
Specific Gravity
Color
Pineapple Rum
Malibu
1.0280
Mango Rum
Malibu
1.0280
Passion Fruit Rum
Malibu
1.0280
Coconut Rum
Malibu
1.0440
Dark Rum
Myers's
0.9502
Coconut Rum
Parrot Bay
1.0593
Clear
Mango Rum
Parrot Bay
1.0593
Pineapple Rum
Parrot Bay
1.0593
Passion Fruit Rum
Parrot Bay
1.0593
Mount Gay Rum
Mount Gay
0.9480
Tropical Fruit Flavored Rum
RedRum
0.9878
Caribbean Rum
Jolly Roger
0.9496
Clear
Spiced Rum
VooDoo
0.9641
Amber
Tequila

---

Liquor
Brand
Specific Gravity
Color
Especial
Jose Cuervo
0.9502
Clasico
Jose Cuervo
0.9496
Black
Jose Cuervo
0.9505
Tradicional
Jose Cuervo
0.9499
Reserva de la Familia
Jose Cuervo
0.9502
Citrico
Jose Cuervo
0.9584
Clear
Oranjo
Jose Cuervo
0.9583
Tropiña
Jose Cuervo
0.9585