Must Have Bartender Kits for Your Home Bar!
If you're a new bartender looking for the best bartender kits to include just about all the essentials you would need to become a pro bartender, we have compiled a list of some of the best kits we have seen online.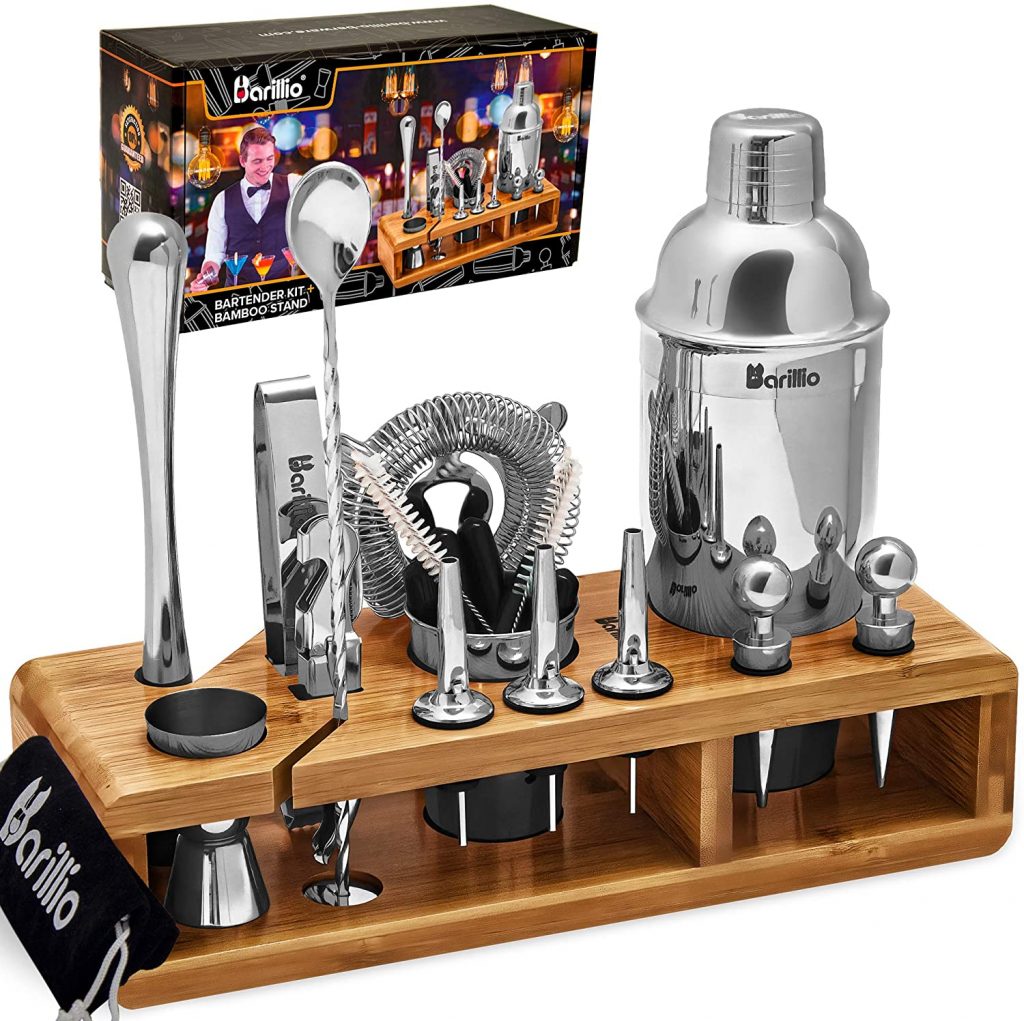 These kits include a jigger, shot glasses, mixers, muddlers, strainers, mixing spoons, pour spouts, and more! These also make for perfect gifts for those who have just purchased a new home with a bar or have built a new bar, they would be the perfect bar starter kit! Note: We may receive commissions on purchases made from our links.
Our Top Picks for Best Bartender Kits
---
This bartender kit is priced very well, and its also very affordable. Given that it's priced low, it's still made of high quality materials and is rustproof / and dishwasher safe! Makes for a perfect gift!
---
This kit comes with a strainer, mixer, 6 pour spouts, double jigger, shot glasses, measuring spoon, and more! It's really jam packed with just about all the accessories you could ever need in a bar! We liked this one since it really just had everything we would want all below $30!
---
This bartender kit also has almost everything you would want but also includes a cute little bamboo stand to hold everything together at your bar corner! Not to mention it also comes with a nice little recipe booklet. Enjoy your cocktail hour with this one!
---
This kit has everything mentioned in previous kits, but also some extras such as bottle stoppers, openers, and a wooden stand to hold everything together for you! It also makes as an excellent gift as its packaged like one, not only can be as gift for yourself, but also makes a great Christmas gift, housewarming gift, holiday gift, birthday and retirement gift. Your recipient will be thrilled to the sight of gift showing up!
---
This premium shaker set is packaged well, also perfect for a gift and is made of very durable materials. This has 16pcs of all the essentials you might need in a bar.
---
This Koviti 12pc bartender kit is unique in a sense that it's made with a nice black finish, which has been difficult even for us to find at times. Black bartender's tools help make your drinks pop as you're making them. It's also perfect for setting the mood in very modern bars etc.
---
This cocktail shaker set is also unique since its holder is in a round / octagon shape that can easily be rotated to get to different tools as you need them, adding another element of motion in your bar show! 😉
---
This elite kit also includes about all the essential tools as well, but has a very nicely designed wooden holder made of a higher quality wood with grains, and also has a nice finish to it.
---
This ultimate black pro kit has very unique coloration to it as well, like the other black colored kit mentioned above. We find black tools to be extremely sexy if the setting is right! One other thing to keep in mind with this one, the manufacturer stands behind their products stating that if you're not completely satisfied with the quality of the product, they will replace or refund your purchase! Just can't go wrong with that one, its a win-win!
Disclosure: crystalmixer.com is a participant in the Amazon Services LLC Associates Program, an affiliate advertising program designed to provide a means for sites to earn advertising fees by advertising and linking to Amazon.com. We get commissions for purchases made through links in this post.