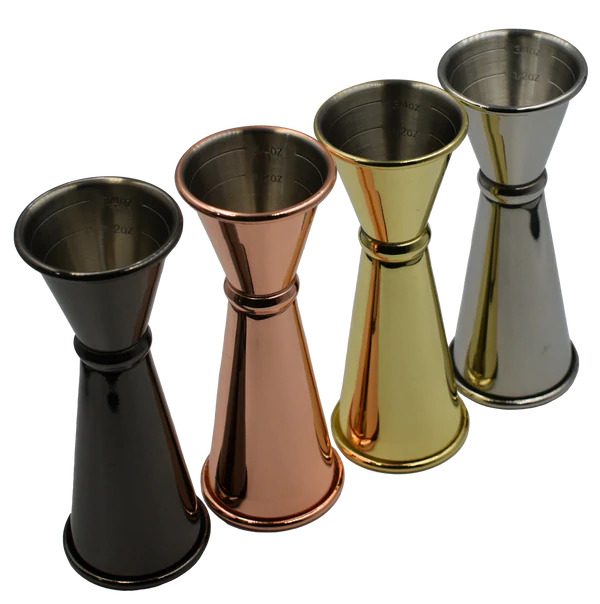 Jiggers come in many sizes, shapes and ultimately colors based on the materials they are made of, which are typically stainless steel, brass or copper. Some of the best types are made of stainless steel or copper. You will certainly always find one in a bartenders kit or toolkit. It's one of the most important tools a bartender has in their arsenal of gadgets. They are typically hour-glass shaped and sized for precision volume measurements from 1/2 ounce all the way to 2 ounces. Basically a specialized measuring cup for booze and other ingredients.
Most are typically doubled-sided for having one side measure 1/2 ounce and the other an ounce. After measuring out your base spirit ingredient such as vodka, gin, tequila, rum for example, then you would just pour it into your shaker, mixing glass or simply the glass you plan to serve the drink in for your guest. Well seasoned bartenders typically use a free-pour method in which they measure by hand and visual inspection, avoiding the need of a jigger. If you're making a complicated drink, even a 1/4 ounce difference in ingredients could potentially ruin the drink, so because of that, we have compiled a list below of some of the best jiggers we have seen online.
10 Best Cocktail Jiggers
---
This set of jiggers are one of our favorites since there is a great selection of colors to choose from to match a certain theme of an event.
---
This jigger is your typically found, standard jigger, perfect for a new bartender and it's affordably priced.
---
These jiggers are Japanese style copper colored and a just perfect.
---
If you're looking for a different style jigger, this may be the one which has non-slip grip wraps around the durable stainless steel body for comfortable pouring.
---
Here's another copper colored jigger with a modern sleek design from a bar above!
---
If you want unique, this bell jigger is just the right choice. It's also available at an affordable price.
---
Copper colored jiggers seem to be getting more popular with today's trend, here's another 100% copper jigger which also happens to be hand hammered!
---
This jigger is one of the most modern and unique designs we have yet seen and it just looks sexy, have a look yourself!
---
This japanese jigger is made of stainless steel, however it features a red copper tone with a gold ring around its waist. This measure jigger has a sleek, slim, and beautiful modern design it's very eye-catching. The perfect gift for any occasion!
---
Here's a jigger by US Standard, which happens to look more like a measuring cup with indents at every increment you could possibly need.
Latest Blogs
---
Check out some of our latest blog posts!